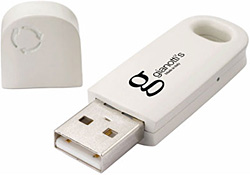 Known by various names - USB stick, flash drive, pen drive, memory stick and so on - the definition is as follows;
A USB flash drive consists of flash memory data storage device integrated with a USB (Universal Serial Bus) 1.1 or 2.0 interface. USB flash drives are typically removable and rewritable, much smaller than a floppy disk, and most weigh less than 30 g (1 oz). ...
With the science out of the way, we can look at the everyday useful information.
Memory size
As with all computer-related products, the available memory size available continues to increase. Originally offered with 8 or 16MB [Megabytes], the most popular memory size is now 1 or 2 GB [Gigabytes]. Larger memory sizes are available. A higher memory size is required if pictures or movie clips are to be stored.


Prices
The major component is a memory chip which is also used in smartphones & other devices. The wholesale chip price varies according to worldwide demand & also the value of sterling against the US dollar. There are some USBs being sold that use sub-standard or re-worked chips. At Something Different we use only new chips from major makers such as Sanyo. Taking memory size into account, relative prices have fallen consistently over time.


Styles
Whilst there are many shapes availble, the most popular style is the Twister. It can be printed or engraved, have the body Pantone matched to your colour - & there is no cap to lose. A large range of styles are shown on our website.


Upload your data
In addition to having your logo on the USB, why not consider having information, pictures or a message pre-loaded so that it appears on start up? It can be over-written later if required. All Something Different USBs can have data & pictures uploaded at no extra cost.


Packaging
USBs are usually supplied bulk packed in a polybag, for a very small extra cost we can suply an individual box & lanyard if required